Request A Free Quote
BASEMENT WATERPROOFING & BASEMENT REMODELING
Invest In Your Home! Basements add useable storage and living space at a fraction of the cost of additions. The first step in protecting your investment is to waterproof your basement. A wet or leaky basement can reduce the value of your home by 10-20%. Homes with wet basements don't sell!
A wet basement wastes an entire level of your home. It makes no sense to live in a home with an unusable wet basement or a basement that floods (once in awhile). Waterproofing Technologies of Oregon can provide a solution. Ruined finished basements, damaged stored items and appliances are all a result of wet basements. Why absorb the costs and inconvenience associated with a flooded basement?
Water intrusion can occur anywhere at any time in a basement it is just a matter of when. Unusual seasonal freezes and thaws, earthquakes and settling of the foundation are of the primary causes of water infiltration and typically cannot be predicted.
To assure the protection of your investment a full perimeter water drainage system should be installed. Waterproofing Technologies of Oregon has available two patented waterproof drain systems Water Trek Aqua Route for sub surface and Baseboard Aqua Route for surface mounted. These waterproof drain systems can be installed in both finished and unfinished basements. These products are specially designed to manage the water problem surrounding your structure. These systems by far surpass more traditional methods using corrugated PVC drain pipe products and in addition have a superior warranty period. These patented products can be applied for other applications as well.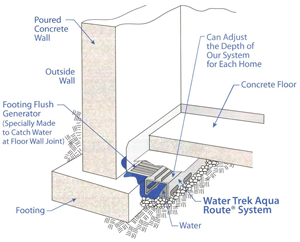 Water Trek Aqua Route is the best solution to an interior drainage system and is the best product available. This system can be custom tailored to each basement water problem and footing configuration under the floor. Not only is it a perimeter drain system it can be used for interior arteries on floors. This system addresses both the water problem at the floor and water intrusions form the walls and are clog free.

Water intrusion is primarily due to pressure commonly referred to as hydrostatic pressure and will follow the path of least resistance seeping in at the cold joints between the floor and wall. The same is true with cracks on the foundation walls and poured floor. This system relieves that pressure at the floor level and evacuating the water out of your home. This system requires the installation of a sump pump.

Baseboard Aqua Route was designed to address specialty floors with very thick, fiber reinforced, rebar poured floors where an interior sub surface system could not be applied. It is designed to look similar to your common household wood baseboard protecting the basement from water at the floor wall joint. This system can be applied on most any poured concrete floor. This system requires the installation of a sump pump.
These two systems resolve the situation of water intrusion through the floor but what about the walls? Both systems will collect the water when it reaches the floor. At this point it is recommended to install SuperSeal® waterproof dimpled membrane. This integral membrane will contain the water and naturally accruing vapor from the foundation walls. Vapor protection will not allowing the moisture from collecting on the insulation, framing and drywall which without it will result in mold and dry rot.
SuperSeal® also has available an All-In-One subfloor moisture barrier for carpets and laminate floor products. This product does not allow the moisture from the concrete floor to absorb into underlay, carpet and wood.
With all three waterproofing systems in place you are now ready to finish that basement with a total piece of mind that your investment is protected with a dry environmentally friendly living space provided by Waterproofing Technologies of Oregon. Remember you live what environment your basement provides. See Healthy Living Spaces.
Why waterproof the inside? The water is coming from the outside. First we can accomplish the same goal from the inside by managing the water properly. The average soil depth surrounding a basement from footing to the top of grade is approximately 6 feet. This would be the first labor intensive task to remove hundreds of cubic feet of soil to expose the wall and to make the area large enough for laborers to waterproof the foundation. The next task would be to navigate the concrete, rock etc. path and driveways surrounding the home typically resulting in complete removal. Just in these aspects the cost is excessive and for the complete job can be 3-4 times more money than addressing the project from inside. It just makes sense!
Not only can Waterproofing Technologies of Oregon Waterproof your basement the right way we can provide complete planning for your basement remodel project from start to finish.
SCHEDULE TODAY FOR A COMPLETE REMODELING CONSULTATION!