Request A Free Quote
CONCRETE FOUNDATION WATERPROOFING & REPAIR
All houses have cracks! Often water intrusion occurs through cracks in the foundation wall. 60% of all new concrete foundations will develop cracks within 1 year. The two most common ways a crack can occur is shrinkage through the curing process and settling of the structure. Applying waterproofing to foundations is a relatively new standard. Asphalt and tar coating products are typical waterproofing in the industry. These liquid applied products which can contain up to 50% water will work well in the first few years but as it dries out they will crack, deteriorate and become brittle no longer protecting the structure from water intrusion. Coatings can trap moisture creating mold and mildew ultimately building pressure which will force the water into the structure. Coatings cannot span existing cracks nor can they expand with newly developed cracks leaving the foundation vulnerable to water intrusion. Foundations need to breathe and release existing water vapor, coatings seal vapor in. The solution is SuperSeal®. (link to web www.superseal.ca)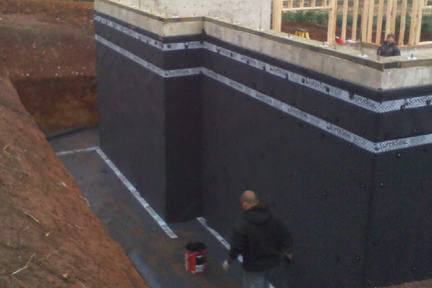 SuperSeal® dimpled membrane will waterproof the foundation either from the outside or inside of the structure and when working in conjunction with a water drainage system is the leading waterproofing product in the industry.
SuperSeal® dimpled membrane products are becoming the construction contractors #1 choice for waterproofing.
Waterproofing Technologies of Oregon can provide a variety of services for concrete cracks and concrete strengthening on basement floors and walls, garage floors, driveways, pathways and foundations. Cracks will expand overtime due to structural integrity and water erosion if neglected. Cracks should be treated as soon as they are discovered to prevent further damage.
Waterproofing Technologies of Oregon also seals driveways, patios and walkways.
Concrete along with block and brick structures can be revived to look new again by aesthetic coatings and Nichiha cultured stone products. Schedule an appointment today to find out what will work best for you.