Request A Free Quote
Efflorescence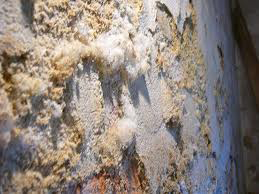 Efflorescence is a white powdery substance that forms on masonry products commonly on brick, Block and concrete structures. Efflorescence is caused by a chemical reaction between water, salt, lime, and carbon dioxide. Masonry products are porous and naturally absorb water especially when in contact with the soil. As the water is being pushed or drawn through the structure it dissolves the salt and lime. Once it reaches the surface the water evaporates, the salt then reacts to the carbon dioxide leaving a white fluffy crystallized formation.  Salt is the primary cause for efflorescence but lime also leaves a powdery deposit as well.
Efflorescence is NOT a health concern like some molds but it is a good indicator of moisture or water build up behind walls or under floors and can be treated. It occurs under the same conditions as most molds and fungi meaning the environment is humid with heavy condensation and cool temperatures. If you see efflorescence deposits the risk of developing unwanted biological contaminants are greatly increased.
Moisture in conjunction with dark, stagnant conditions invite dry rot, pests, mold, and rust. It can also trap chemical and biological contaminants. During the winter moisture will condense on and around windows and doors often referred to as sweating. Other symptoms of excess moisture include fogged and icy windows and if your home is heating up slowly.
Even though there is no visible sign of water during the summer months you still have humidity. It is during the summer when the mold and mildew will begin to build up creating musty odors almost making the area unlivable. An increase of allergic discomfort during this time could be greatly contributed to the air quality of your home from moisture.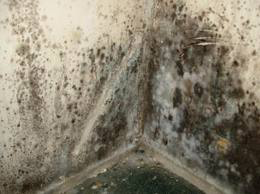 Mold is the most common product of moisture and comes in many forms and ultimately can become a major health hazard. Only about 10% of mold you see 90% you don't! Mold gets trapped in the drywall, under the carpet, in the insulation, wood sub structure and behind or under appliances. Mold can grow anywhere there is 20% moisture or more. Mold emits metabolic gases which contain VOC emissions (Volatile Organic Compounds). Once airborne they are commonly carried throughout the house via the air ducts which are located in your basement and crawl space. On square inch of mold can release millions of airborne spores. If you can see and smell mold you have a problem. Not only is mold a health hazard it can destroy your property.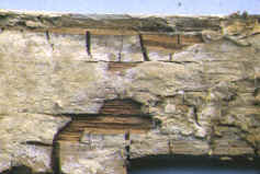 Dry Rot is a wood decaying fungi technically called Serpula Lacrymans. Dry rot occurs at about the 28% level of moisture. From the moldy surface spores then germinate which grow root like structures into the wood. It can grow over masonry to infect other wood structures. Moisture can also saturate in the structure and cause rot inside the walls. Ultimately dry rot can cause structural problems all due to excessive moisture in a basement or crawl space.
Pests are attracted by moist conditions and carry germs and disease. Mice like moisture and warmth. Moisture attracts termites and carpenter ants particularly the decaying wood. These pests then attract spiders and if you see a lot of spider webs you have an insect infestation. These pests enter your home through cracks in the foundation and floor the same as for the water.
Rust is a fungus that forms on metal when exposed to moisture. Rust can affect personal property stored in basements, electrical panels, furnaces, water heaters, washer & dryers, gas lines, and in older homes cast iron plumbing. Rust effects the life span of all these items and can create hazards of a ruptured gas line or an electrical fire that may be partly attributed to rodents gnawing at the wires.
The Solution? Install a waterproofing system with Waterproofing Technologies of Oregon
Air in your Home
Did you know that the air in your home can be 2 to 3 times more polluted than outdoor air?
The EPA says that indoor air is one the top five environmental health risks.
Moisture is the #1 contributor to indoor air pollution.
Moisture in the Home= Poor Air Quality, Toxins, Mold, Fungus
Warm air naturally rises and flows to the roof; cool air will want to condensate at the lowest point in your home i.e. your basement and crawl space. Many contaminants get trapped in the moist air such as pollens, mold spores, dust mites, household chemicals and carbon monoxide. As the warm air rises it creates a suction type effect on these low point areas. The contaminated air is now drawn into your common living space. This type of air exchange can cause irritated eyes and nose, headaches and respiratory discomfort which might be otherwise associated with common allergies from harvesting and botanical life.
Basements and crawl spaces are like caves they are conducive to a damp, stagnate and wet environment. These areas must be maintained if you want to live a healthier lifestyle!
The first step is to properly waterproof the area. Second you will want to increase ventilation and lower the relative humidity level. The ideal range would be around 50%. The environment invites contaminates at 65% or higher relative humidity level.
For best results it is recommended to install an air exchange system in the basement or crawl space. This method takes air from the warm up stairs to the basement or crawl space area. The moist contaminated air is vented to the outside being replaced by a flow of drier, fresh air from the upper levels of your home. This method will reduce humidity and create a healthy home!

Basement Technologies of Oregon recommends the Bonair by Humidex air exchange system. Contact us today for more details.
In most homes the installation of an air exchange system will be efficient and cost effective and is the better option than using a dehumidifier. Traditional dehumidifiers are a good method for drying the air only but does not clean it of contaminates just spreading it. If your home does have a high humidity problem then a dehumidifier may be necessary to use in conjunction with an air exchange system to maintain a healthy living environment.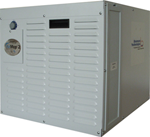 Basement Technologies of Oregon recommends the Air Mop 2 performance dehumidifier for your basement or crawl space.