Request A Free Quote
SUMP PUMPS AND BATTERY BACK UP SYSTEMS
The most effective and reliable waterproofing drainage systems are based on a pumping unit. Sump pumps are the fastest and most reliable device to evacuate the water from the water management system.
The sump pumps we employ are of durable cast iron bodies, heavy duty ball and sleeve bearings, high carbon strength steel and corrosion resistant. It is recommended to service your pumps annually to assure it is functioning properly and extend its life.Waterproofing Technologies of Oregon can education you on how to service your pump or provide you with a yearly service plan.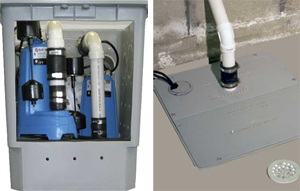 Waterproofing Technologies of Oregon patented Water Grabber® pump liner is the heart of the water management systems. This liner is extremely versatile to most any project. Best of all it does not look like a house pump and is aesthetically pleasing.
Pump units run on electricity and are mechanical devices prone to possible failure. The top of the line pump typically only come with a 1 year manufacture warranty but through annual service it can last up to 10 years or longer. Secondary pumps can be installed as a backup system should the main have a mechanical failure. The truth is that some pumps work very hard during their life depending on the volume of water cycling through the system. An unused secondary pump is ready to pick up the slack for many more years.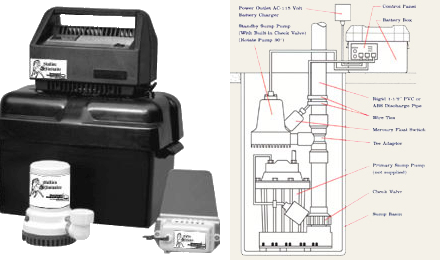 For added protection in the event of power failure a battery backup system is recommended. A separate float switch and alarm automatically starts the battery powered sump pump backup. Our battery backup system can operate for 9 hours continuously or 24 hours intermittently. A power outage is a very realistic event often in heavy rain storms which could flood your basement or crawl space in a matter of a few hours.